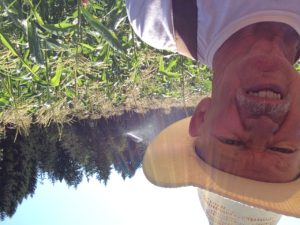 Is it me or are most folks short on time? It feels like everything I do could have been better prepared. After a while I wing this and I wing that trying to patch it together. I need more of a Thoreau approach with less irons in the fire.
But whatever the situation I don't think that we can go wrong with showing appreciation for the things in our lives. Gratitude always works it seems in each and every situation. There was just a FB post with a pic of a little raggedy kid who was smiling like crazy. And the caption was something like, "It's not happy people who are grateful, it is grateful people who are happy." Yea, right!
What does Annie have for us today, this 21st day of Lent. Oh she has gone Old Testament on us:
Be still and know that
I am God.
Psalm 46:10
Yes, that looks like more of a Thoreau approach to the whole situation. A few less irons in the old fire would be good. Well, and that is only half of it. Being more still may give us a better chance of getting closer to God. There would be less clutter in the way.
That certainly worked for me on the Camino. I was way closer to God and my fellow man just in general. I had that simplicity that the life style allowed. It all seemed so easy.
Off I go on my busy day. Maybe I can find some way to jettison a few things on my list of things to do. Grateful loves, Felipé.