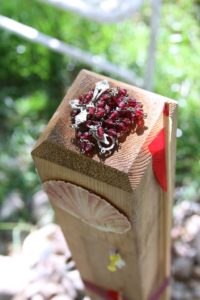 Back a year and a half ago when Annie had Phil's Camino the film in for consideration at the South by Southwest Film Festival something happened to cause me a change of mind. We had been working on the film for nearly two years at that point and it was ready to start showing it in public. And that is where that process all started at that festival in the spring of 2016.
In there somewhere the news got out that the festival team looking at entries watched 800 short documentaries and chose 12 to include that year. Yea, we were one of the twelve, very heady. So, trying to wrap my mind around that lead to a new way for me to think about what we had. We had something amazing in our possession, a pearl.
And now, what I am trying to say to you is that I am having the same realization with Phil's Camino the trail. With Catalina being here recently and us working on our upcoming book about it I saw that pearl thing happening again. And it was magnified by the thoughtful papers that her class had written about our meeting. Here was another wonderful thing with great potential.
I am left humbled and with a feeling of great responsibility with this realization. Holding this pearl in my hand and wondering what our futures will bring, I am amazed as the Camino goes on ahead of me. Recently a realization occurred that the more I do, the more I do. What does that mean Felipe? That means that the more things that I participate in the more opportunities come up to participate. The Camino goes on ahead of me with St. James here in the background somewhere.
In the film I remember saying at the outdoor party at the end that, "This is a great way to wrap up my Camino experience." Very ironic as our dog Sture died a few moments after that happy comment and the dominoes have been falling over ever since and I am foreseeing more in the future.
So that is what is going through Felipe's mind today. Time to go, see you tomorrow. Love, Felipe.