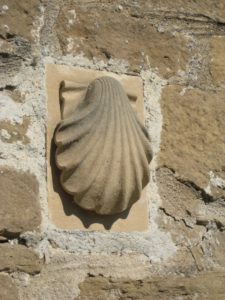 I just noticed this morning that I am missing a little something. Five years ago after loosing two little Virgin Mary medals on the Camino I found a tiny silver shell in a crack in the sidewalk. It was some little town, big enough to have a pharmacy type town, and I was with Maryka in the last 100 kilometers somewhere. Doesn't matter, a crack is a crack. But I have been wearing it on a chain around my neck along with a silver cross that was my Mother's.
Well, it is somewhere right? Somewhere safe for the next person to find is the right way or a good way to look at it I suppose. A certain amount of randomness is refreshing and welcome.
We saw the Sam Cooke documentary film last evening on Netflix. My Rebecca heard about it from a friend. That was a good one to catch up on some important history.
Memorial Day today. The local vets are putting on a ceremony at the Vashon Cemetery. I ran or helped with that for something like twelve years when I was serving in various offices in the American Legion Post. I had to quit that when my cancer hobby got so time and energy consuming. But we remember those on whose shoulders we stand.
OK, have a walk in a few minutes. The day is supposed to be beautiful and maybe eighty degrees. Holiday loves, Felipé.