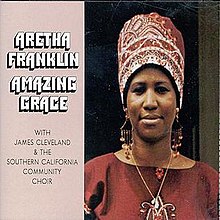 Last evening My Rebecca, a friend Marie and I braved it into downtown Vashon to the movie theater to take in Amazing Grace about Aretha Franklin. Wow, I haven't wept in a theater like that since seeing the Camino Documentary back in 2014. My Rebecca said there was too much closeup sweating for her. There was a lot of that too.
This footage was taken in 1972 of Aretha signing Gospel and never was completed as envisioned due to technical difficulties. So, it came out in this form and in what year I don't know but fairly current. A very young Mick Jaeger is in the audience in this Baptist Church building for instance.
This is such an important document of our times. It sort of explains a lot in it's own way. We are so used to her in her more pop role but this is really where she came from and what she wanted to keep in touch with.
She was backed up by the South California Gospel Singers lead by Alexander Hamilton. Also A Reverend Cleveland sang with her and that was his church where the filming took place. Aretha 's father spoke, the Reverend Franklin and he was one sharp looking dude. I have the feeling that some of these folks probably have had something to do with Annie's Agape Choir there in LA these days.
Anyway, all very moving. And those folks had that place humming. I was waiting for that building to collapse, it was stressed during that performance for sure. Too much rhythm goin on.
Well, that was our big night out. Today I am off to the shop in a minute to work on my cabinet job for St. John Vianney's Church. Then there is weeding for the corn also. Walking later at 1600 or 4PM. It is supposed to be warming up. Maybe do some sweating of our own.
Will be in Orlando this coming weekend at the annual convention of the American College of Sports Medicine showing Phil's Camino. Will be back for the walk next Sunday, just a quickie.
Good deal loves, Felipe.