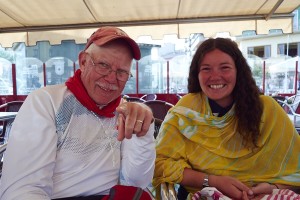 I have a Camino buddy in Australia that checks in on me. Her smile first attracted me to her as I saw it in a rush of early morning pilgrims. Somehow, I jostled over to walk with her and it paid off. Despite Kelly's best attempts to keep us moving we managed to dilly dally our fool heads off at each and every opportunity. That's our story and we're sticking to it.
Also, the documentary shows her with me in the "collapse scene". Kelly, Gracie and I went to Mass in this small beautiful old church. I made a scene by collapsing from heat exhaustion right in the middle of Mass. And my big claim to fame was that "I fell into the arms of Grace" right there. You will see her and Kelly (and the mysterious nurse from Netherlands that always seemed to be there when we were in trouble) in the film.
Recently she sent some pics and some words that I want to share with you: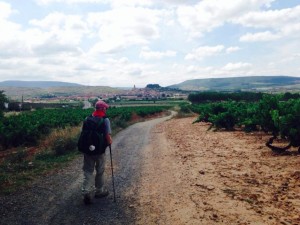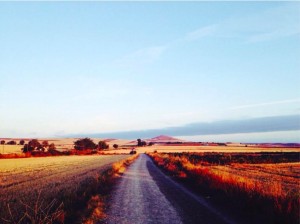 "here are a few pics i have of you, the first from the day we dilly dallied and daudled the whole way to the next town and arrived very late too some very concerned friends (it was worth it), one of you stopping and smelling the roses, and the third from a glorious morning sunrise falling over the road ahead this particular morning i was walking with you kelley and emily i remember that beautiful orange pink light from the sunrise making me all types of happy.
what a time! so lucky
gracie"
That's the way it is for me, for us, today with a tear in my eye, love, Felipe of the Camino.