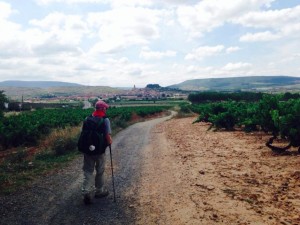 Everytime I hear that word I'm back in that Humphrey Bogart movie and "Badges! We don't need no stinking badges!". Yea, but this is 2016 and we do need the official badges to get around at the upcoming film festival in Austin. Waiting for the official email with news on that.
Ah,the life of a movie star. Yes, not all glitz. And Pilgrim Farmer John in Iowa has started a campaign to flood the festival folks in Dubuque with requests for Phil's Camino. What a guy! We have to start something in Seattle to stir up trouble here. Michele?
Yup, and it's springtime (almost) (on the verge) (95%) (close as can be) (particularly) (at least hopefully) here at the ranch. Busy time of year to get everything done that the change of season dictates. Then we have these pesky film festivals to contend with. They couldn't do them in the rainy season?
Let's see what else is going on? Ah, Mrs Graves (My Rebecca in her teacher role) gave me a "Cute" on my blog post yesterday. What? Well, I jumped on it and lobbied it up to a Cute+. Yea, at least.
Well, OK, have to run and make it all happen, making hay while the sun shines. Ok, the email from South By Southwest just came in with the stinking badges, ah the badges. Keep it all going there where you are, love, Felipe.