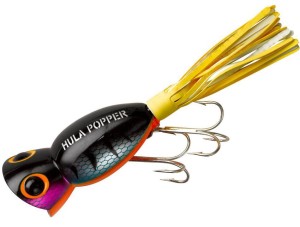 Way back when, Pilgrim Farmer John and myself (Pilgrim Farmer Felipe) watched our fathers and their friends demonstrate the fine art of fishing. We were little squirts and didn't realize we were privileged to be learning from masters. This is way back before catch and release, a weird concept. And definitely before fishing shows on Cable. Watching other people fish, I mean strangers, very weird.
So just to review I was talking about Gracie's fabulous smile on a reply to a comment. And PFJ was talking about the ability of some women's smile to bring him in like a big old bass to a Hula Popper. Now I knew exactly what he was talking about. I know what a big old hog bass weighs to a kid, not only looks like. And I know what a Hula Popper looks like and is capable of in action.
Action is the key word here talking about women or fishing lures. Maybe I should stick to fishing here for now. Anyway, the most exciting kind of fishing, in my book, happens on the surface of the water when you can actually see the fish rise and attack the lure. And the Popper is noisy and splashy as you work it in a stop and go manner imitating a careless juicy frog. All that commotion on still water will draw fish from a long way and thus a large part of its success.
This elegant little invention is right up there with Monday Night Football as being the possible high point of Western Civilization. I was thinking the nectarine was on the short list but maybe that came out of China. And maybe film as in movies is way up there too. But there is an interesting parallel between fishing lures and movies which used to exist but who the heck knows these days with fishing shows. But it seems that when times are bad and people feel the pinch and need to "get away" they go to movies and/or go fishing. Ticket sales go up and sales of fishing lures goes up. Yea, little known fact.
So, Felipe, where are you going with this? Well, ah, just in general I find there is too little fishing going on. That could be real life fishing or symbolic fishing. Jesus wants us to be fishers of men. Ah. It can be very exciting and rewarding but also when things are slow the time spent watching a motionless bobber can be very restorative. God knows we need some restoration. All kinds of lessons to be had there too.
So along with the revival of the quince the Hula Popper needs some attention. As I was researching on Google I saw some encouraging signs. Hula Popper tattoos are making there appearance. There was a very touching one that I saw with the words "Forever Fishing" and birth and death dates next to the Popper: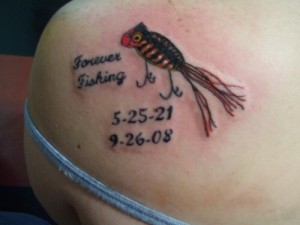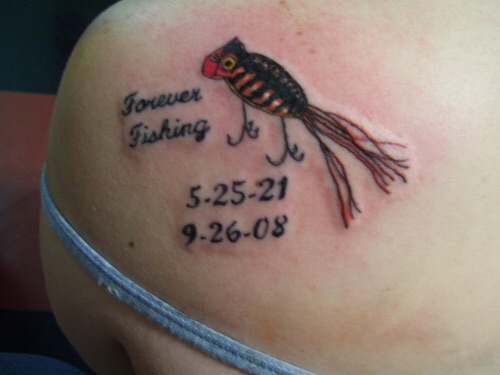 My Rebecca is shaking her head, yes I am writing about Hula Poppers. She never heard of one before yesterday. Thus the value of this blog, broadening horizons. Ever onward, Popper loves, Felipe.