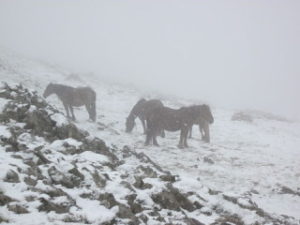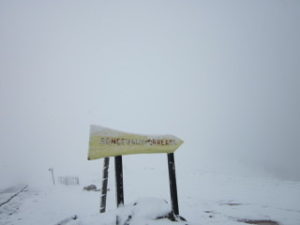 (Our moon today is First Quarter, 49% illumination.)
Walking, My Life Long Addiction—Reflections from the Spring of 2012.
I like to talk. In fact I talk a lot. I enjoy talking immensely, so when I
informed my wife of over 20 years that I would walk the 800KM
pilgrimage route of St James from St.Jean Pied de Port in southwestern
France across the Pyrenees mountains to Santiago de Compostela in northwestern Spain
in silence,she was flabbergasted. When I walk I will not talk. To show her I was serious I showed her the three
badges I had custom made stating in English,French and Spanish: I walk in
silence. Je march en silence. Yo camino en silencio. She was free to talk to
me but no reply would be forthcoming.
April 12th,2012 was day one of el camino.
The reflections afforded to he who walks without talking are life changing.
When I tied up my boots that morning I also tied my lips. Despite my
silence, I met people from all over the world. And the local folks I met
were kind, loving, generous. No common language spoken, our communication
was done with eye to eye and heart to heart connection.
The elevation at the beginning was at 200M/660Ft above sea level.
The sun shone as we climbed upwards on the way over the Pyrenees.By taking
the high pass one reaches the second highest point,1400M/4592Ft, of the whole Camino
Frances. Elevation was no problem coming from Calgary at 1048M/3438Ft.
As mountain weather does it changed quickly from sun to a heavy
mist and rain. We took refuge in a nearby hostel. A fellow pilgrim informed
me that four other pilgrims, two Irish/two Italian, had called him to say they were in danger higher up in the pass in a blinding snow storm. They were lost, cold and very wet.The Spanish authorities were informed, but as time was of the essence, I headed out in an unsuccessful attempt to find them. We had also contacted a local driver who was familiar with the area. He was able to drive along the small road that led over the pass.Luckily he found the missing Pilgrims and brought them back to the hostel.
Two of the four were within hours of dying of hypothermia. They were ill prepared for mountain weather.As this hostel had no heating, we arranged for then to be taken to a village with warmer accommodation. That evening we enjoyed a wonderful Peregrino supper.
Day two started in the rain which soon turned to snow. Could only see a few
yards in front. When I left Calgary for this pilgrimage I didn't expect a
winter wonderland. Each tree branch was covered in white and flowers poked
their heads through the white blanket. Passed roaming wild horses. A cattle
guard indicated the border. Now in Spain. Downhill to a Monastery, our next
resting spot.
This Pilgrimage was clearly a very personal journey.
No two people will see it the same way.
It was like living life from birth to death and everything in between AND
beyond. I have not, as yet, found the words to describe the beyond portion of this journey.
It was kind / it was cruel. happy / hell. pleasure / pain.
All weather. rain–hail–snow–wind–sun.
All terrain– mountain–valley–flat–hilly–muddy–fields–rough
paths–smooth paths— village–town–farmland–vineyards.
Upon reaching the Cathedral in Santiago I was met by a very excited pilgrim
whom I had met earlier on the path.
"We are planning a party,I've bought a cake and we will gather to
celebrate"—-. Immediately I felt overwhelmed with all the noise and the
people and the city. That's when I realized the profound effect my silent
pilgrimage had on me.I returned straight away to the pilgrim office where I
had picked up my Compostela. Here the official gave instructions on how to
leave town and continue on my silent way 87 km to Finisterre on the far
west coast of Spain.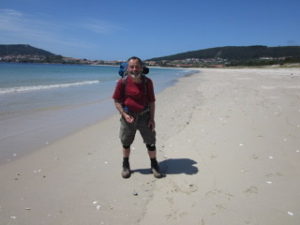 William, Caminoheads Canada Bureau Chief.