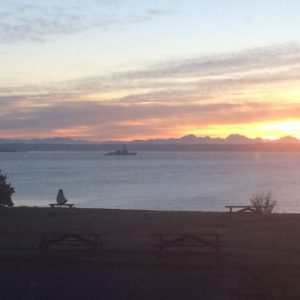 Monday morning at the film festival camp out. Some of our folks have taken off for home and some are still here, waking up slowly right now. We are in a big old army barracks that is available for lodging for the event. It's pretty funky quaint but pilgrims can put up with about anything and still have fun.
The festival has been really exciting and rewarding. We had a chance to see more movies than we usually do. And this was a great gathering of our far flung crew. It was hard to count but I think we had eighteen people total associated with Phil's Camino. Half of those flew in from California and half were here from Western Washington.
And for me, I really enjoyed talking to so many people. I could barely walk down the street in some places because so many people recognyized me and wanted to say hello and ask a question. Most of this was due to the fact that a group of films was shown to the staff of two hundred volunteers before the festival and Phil's Camino was one of them. So, those folks had seen me and wanted to say hello.
There were so many good and deserving films at the festival. I wish we could have taken in more but we have a new list of titles to keep our eyes open for.
We didn't garner any awards but did get nominated for one. But it was really great to see Doug Blush get at least two for the Jim Foley Story that he had edited. Doug is our Supervising Editor.
Yes, and so in a minute I am going to get serious about finding some breakfast and a big old mug of coffee. Then we have a couple of hour drive back to our island paradise, another festival under our belt. Have a good one where you are, love, Felipe.