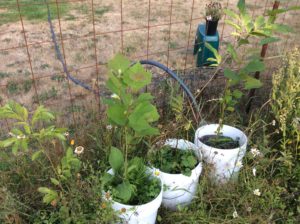 The political rancor these days is, I don't know, unbearable is a good word. It is like a drumbeat of chaos, if that makes sense. I strive to find my personal center after watching a few minutes of this hearing that is happening right now. Somehow it reminds me of walking into Burgos through those miles of industrial chaos. Both don't seem healthy or conducive to anything creative. Yike!
Maybe I am just a weakling but this is too much for me these days. Somehow my plate is full with things that seem more vital or important to me personally. Am I burying my head in the sand or am I doing what I should be doing by taking care of my own business?
Every little thing seems a bit too important out there. And things that seem important one day are thrown away the next. And here I am refusing to chase all that around continuously. Is that OK with everyone?
Sorry for dragging you into this today but maybe you feel the same way. Maybe we aren't supposed to live by being pulled in one direction one minute and off in another direction the next.
Well, I hope that is it for today. I need to get to work here. I have a lot of TV not to watch.
searching loves, Felipé.