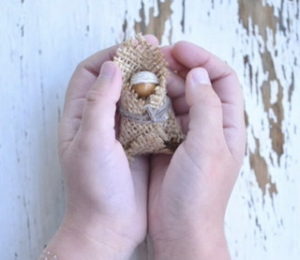 There Was A Birth
Happy Christmas everyone! I am writing this literally at 00.10 AM on 25th December, 2020; Buenos Aires time.
This has been a unique Christmas, one we will never forget for sure. And I do hope it is only because we had to be isolated and not because for not being isolated, many more fellow humans had died as the virus spread.
In my country, the important celebration is tonight ("Nochebuena"), and I believe it is because here it is summer time, dinner starts late, we are great at after-dinner talk, the food is a feast so pretty quick it's midnight and Christmas day is here! Today was no exception, just that I stayed at home, dinner was on my own, and this post is my after-dinner talk with you all, my neighbors at Caminoheads.
But let's return to the point of this post, the fact that there was a birth. If there is anything that is clear to me about December, is that there was a birth, and not precisely mine: there is no way I could compete with Jesus's! This fact, added that my family used to move for work 400 miles away by early December, meant that my school mates weren't around for my birthday, every adult we knew in that place would come on the 24th for Christmas Eve and the presents would be "brought by Santa" in a 2×1 deal have created a lifelong trauma! (PSA: a pair of shoes is 1=one present)
This is why I think I was an empath with Jesus, and when I was a child (and older too), one of my questions was why he had to be born on a manger… it is a tender scene to be set up with kids, but why? Time passed and I got a Christmas card with these defiant lines from Thomas Merton:
"Into this world, this demented inn
in which there is absolutely no room for him at all,
Christ comes uninvited."
Merton explains his point of view of the phrase clearly in his poem, but to me, this idea is linked to two other thoughts (not mine either, I just have good sources!): one is that this God we know, is a "God of surprises". Pope Francis develops this concept very nicely, and so Arch. Tutu, but clearly, a God that decides to be human, has to have a witty spirit, and not to tell how he surprises us on this path of life, he has such a creative mind… "if you want to make God laugh, tell him your plans" it is said! And I know it is true.
And the other thought came later as I became into a pilgrim and an adult, and it is "hospitality and belonging". What does it say about us, humanity, that we couldn't make a space for Mary and Joseph, knowing that Mary was going to give birth? Which were the thoughts and beliefs that these people had, that were more important than helping this very young couple (Mary is thought to be only 16 years old) that night? Why couldn't we make them feel welcome, feel awaited, like -we pilgrims- felt many times?
I am sure many have regretted afterwards knowing that they closed the door to the couple about to give birth to this "God of surprises" incarnated, but do we really need to know the background and outcome to make a decision whether to help of not? I hope not. I hope our lesson learned from the story of the manger is to practice hospitality, welcoming, offer the experience of feeling invited, of belonging, of being seen and cared, to our fellow humans no matter who they are. We pilgrims know that there is always room on the tapas table for someone else, so we know this is possible.
Christmas blessings to you all.
Cris
Advent Calendar #25:
Evoke the lives of those who at least have breathed easier once because you have lived. Do it for as many as possible, and while you have them in your mind, tell them "thank you for your generosity, for giving me this opportunity to be a part of you life." Cris CSABC
Love is composed of a single soul inhabiting two bodies. Aristotle
Merry Christmas, Felipé.