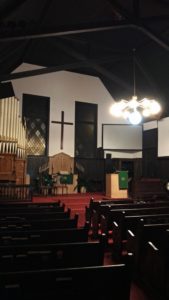 It's a little old German church on Capital Hill, Seattle. We were lucky to know a great person Nick a lay pastor there. He wanted to show Phil's Camino there for the neighborhood. Unfortunately it was a crazy evening with a downpour including hail. But people showed up. I guessed that we had sixty, a quarter of which were some of my nurses from the Institute.
Nick somehow wrangled the long version which is always fun for My Rebecca and me. It still seems like the first time we watched it. I love the hummingbird story and the more Wiley and the more Kelly. My Rebecca and the National Cheese Fortnight tickles me.
But the high point of the evening for me was the QandA which sometimes turns cosmic like it did there last night on the Hill. There were people there that were struggling with cancer problems and I got to talk to them. I am totally humbled and deeply honored to be able to do that. Those folks combined with the energy of all my beautiful nurses was great chemistry.
I wish we could film these events when they happen but they are way too intimate for that. Just have to do them one at a time I guess the old fashioned way.
But a lot of folks were interested in coming out to walk the trail. And for sure there are new folks reading our blog posts today. Yes, a bigger readership is welcomed. Yes, welcome all you new folks!
So time to head out for now, starting a new work project today. Need to pick up and transport materials to our shop. It's my semi retirement hustle.
So as always love and appreciate you all. It is an amazing pleasure to know and work with you. And let's not let the rain spoil our fun either.
rainy day loves, Felipé.