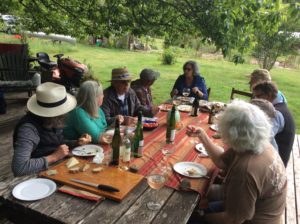 I gave my tumors a little pep talk this AM.  I have a scan today at the Cancer Institute and I told them that they were going to be on camera and they need to look their best.  We are working on things together these days, trying to work out solutions.
Will be packing up shortly for the drive in to Seattle.  So just wanted to touch base with you before I have to set the iPad down.  Hope everything is going well there.
Just heard through the grapevine that the Starbucks located by the Cancer Institute is merging with one further down the avenue.  Hundreds of nurses and doctors got their caffeine from this little cafe, well they did until last Friday.  Will this be some kind of glitch in my care?   Always something.
OK, off to the ferry.  Later, love, Felipe.