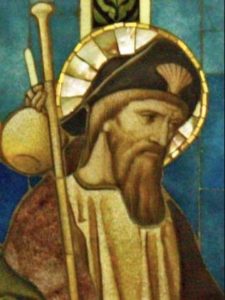 It's the feast day of St James the Greater, our mentor, today.  He was one of the of the twelve apostles of which there was also James the Lesser by the way.  Yea, so this is his day of  the year, a day to celebrate St Jamesness.
Four years ago Kelly and I were in Madrid on our way to the start of the Camino Frances.  We didn't run into any celebration but then we were busy and focused on figuring out the Spanish trains and buses.  But St James is the patron saint of the whole of Spain so it must have been going on all around us.
Steve – O sent a link to information on Wikipedia and here that is:
https://en.wikipedia.org/wiki/James,_son_of_Zebedee
Steve Watkins, Caminohead friend and author of Pilgrim Strong had a list of facts on FB yesterday.  Maybe I could find that and reprint it here:
1. James was one of the three disciples in Jesus' "inner circle" along with his brother, John, and Peter.
2. James was believed the older of the two brothers. They were the sons of Zebedee and Jesus called them Sons of Thunder (boanerges). There is only speculation for the labeling.
3. Jesus first found James and John as they were fishing. He told them to cast their nets into the deep waters. "Come along and I will make you fishers of men," he said.
4. With Peter and John, James was present at the Transfiguration of Jesus.
5. When the apostles were commissioned to spread the good news of the gospel, James spent some 40 years preaching and working in Spain, mostly across the Iberian peninsula. He is therefore known as Spain's patron saint.
6. Beheaded by Herod, he was the first of the 12 apostles martyred, and it's believed he lived 44 years beyond Christ's crucifixion.
7. Artistically, he is often shown carrying a staff and a water gourd with a robe adorned by the scallop shell, all symbolic of pilgrimage.
8. The Way of St. James across Spain is walked by more pilgrims than any other route in the world aside from pilgrimages to Jerusalem and Rome, and perhaps Mecca.
Thank you Steve.
Here at Caminoheads blog we have a saying that maybe needs reviving since it is good and we haven't used it in a while.  And that is SJA.  That stands for St James Again or Staint James Afoot.  This is what we used to say when some unexplained good thing happened on our daily camino.  It is an acknowledgment that St James is alive and well in our lives.  Yes, it is time for that.
Well, Happy St James Day to you all the world over!  Loves, Felipe.