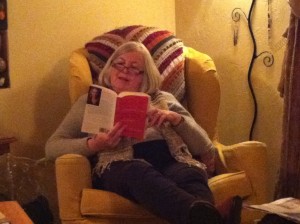 So sorry that I didn't get a pic of me with Father Tom. Why do ai fail to document? Maybe it is like trying to photograph a whirlwind. I was so busy the whole time that the opportunity slipped away. Maybe Annie has a shot that she would send.
Anyway, it was an occasion, his coming. His fortified my whole Christian faith, made it more robust. Well and confused me at the same time. Confused isn't the right word but I can't think of better at the moment. It just seems that there was time before his visit and time after his visit. It was a significant event and things that happened before are fuzzy, are harder to remember. Does that make sense?
So, I am off to st John Vianney's for Mass in a few moments. After that I walk and then I am planning on working on the corn. Maybe the weather will cooperate. It has been variable with sun alternating with showers. But the sun has been keeping ahead of the moisture so the soil is still workable. Have to purchase the rest of my corn seed this AM and get it soaking. Life here at the ranch.
I liked what Father Tom said about me rekindling his Camino spirit. I guess that is what we are here for at Caminoheads, right? We rekindle, we keep it going. We know how to do that. OK, till later, love you, Felipe.