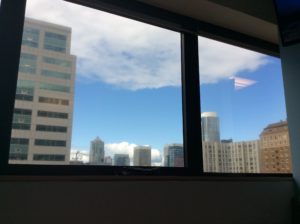 Yea, check it out, Pope Francis's talk with us.  Cris sent that in to us as something for me to view for my unity speech.   Nice of him to do that for me.   It's a good one but I may have to watch it again.  It is in Italian with English subtitles and I find myself wanting to watch him and the subtitles at the same time which is hard to do.
Here at the hospital with nothing I have to do for the next two hours.  I'm going to work on the speech and maybe check out FaceBook.  It's enforced downtime while I hydrate.  A whole liter of saline going in to my body.  My we could have used this treatment in the Spanish August.
And then maybe I will take a nap.  OK, see you tomorrow, love, Felipe.