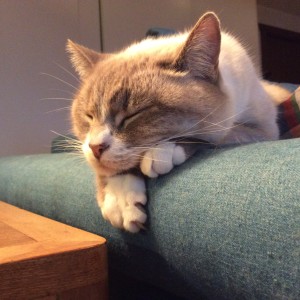 I am off on a retreat this coming weekend. There will be fifty men there from all over Western Washington, Bible Guys I call them. The shindig is put on by Teleios, an umbrella outfit that oversees over a hundred little neighborhood bible study groups. Anyway, the main guy, Art, walked the Camino last summer and took my walking sticks across Spain again. And Bart, Art's mentor, walked with him and is the guest speaker this weekend. So you can see the attraction for me. Well, we will do some serious bible study and discussion for sure but maybe get some time for Camino chatter between things.
So I am off to this other island, Bainbridge Island. The retreat is at a "retreat center". OK, yes. Most times if I feel the need to retreat I just pull my cap down a little lower over my eyes. I don't get over there hardly ever to Bainbridge so this will be different. Visiting a friend maybe on the way. So this morning I'm filling out the really official registration/emergency/who's your lawyer/ online guest form (the "risk waiver form"). Man, I don't know but it kind of made me feel like I was from a different planet. That's not very inclusive.
Maybe I'm getting old, you think, but it's definitely a different world out there these daze. So on the form, one section was the dietary restriction choices. Geez, I didn't know there were so many conditions out there. What did we do before this? Somehow reminds me of Marine Corps boot camp, in an opposite way. SOS for breakfast for everyone. If you didn't like that you could try and find somewhere else to eat, I guess, the Officer's Club maybe? Yea, but noticed they didn't have kosher dietary restrictions down there, on Bainbridge Island not Parris Island. That's an obvious flaw.
OK, then I got to the Disability Requirements Section. It was a big blank. that's intimidating, no choices? Look, I am not making fun of anything or anyone but just this form (my disclaimer), OK? I was tempted to put down something really silly like "all sidewalks must list 17 degrees to starboard" but held myself back. I mean it was a big blank on the form, inviting my creativity, right? Not wanting to leave it blank I put simply, "Not today!".
So, yea, one day at a time for this retreater. I am walking Phil's Camino this PM, with no disability requirements required, God willing. In other words, "Not today!". Love you, you know what I mean?, Felipe.