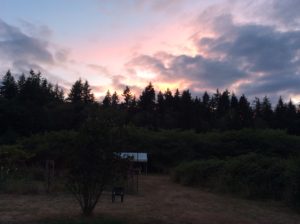 Yesterday amongst all the stuff I was trying to scratch off my to-do list I wanted to get up to town for Ray's party.  By town I mean Vashon town not Seattle.  This was definitely a home town deal I was after.
Ray was an Army vet, school teacher kind of guy.  And somehow before you know it he had worked 38 years at the local lumber yard.  He was that guy.  And he was finally retiring and the yard was throwing him a party.  Yea so, I got up there to pay tribute to Ray the guy that kept the beat, that guy.
When I think back on people that have been influences in my life over the years I have a lot of guys that were Ray kind of guys.  I don't know if the world has a lot of them or whether my particular life had a lot of them or whether I just noticed them, sort of picked them out.  But whatever Ray was that guy in his particular universe, the lumber yard.
Now as I think about this I realize that I may be that guy for a set of  people.  There are hundreds of cancer patients that I come into contact with either directly or indirectly.  And the nurses at the hospital tell me I am on uncharted ground with my 101 chemo treatments.  Am I that guy who shows other people the way?   Am I the guy that people look to to see on how it should be done?  Could be I guess.
It sounds like a big responsibility although it isn't rocket surgery.  Just sort of one foot in front of the other and keeping it all going forward cheerfully.  Geez that makes it sound like I march around at the hospital singing camp songs.  Well that is not the case but there is something here.
So, walking in a few minutes.  We are  having a little rain today.  Wet love, Felipe.