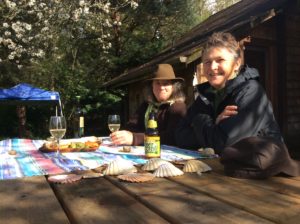 Early Sunday afternoon here.  I went to two different church services this AM.  Catherine and I did the eight o'clock as usual and then I trekked to the Methodists to hear the testimony sermon given by one of my Bible Guys.  OK, that was totally enough church for one day.
Yesterday we published Cris's great thoughts on walking the Camino.  Gracias amiga!  Maybe I will pick out three things that jump out at me and touch on them.  I know that different ones will interest you and maybe throw a comment at us in the next few days.
"As a Pilgrim I know there are yellow arrows everywhere the point is to be attentive enough to see them (even in the Camino where the arrows were painted, we lost the path several times)."   This is a good reminder that there are yellow arrows for us now we just have to be quiet enough, or perceptive enough or bold enough to see them.   In our hustle bustle mode that we can get in all too easily we must miss all sorts of helpful arrows.
"You have to wish the Camino to be long."   Whoa Cris!  Like you don't want to come out of the oven half baked?  OK, OK.  I thought they were all plenty long.  Or is it that you want it to continue indefinitely in a symbolic way.
"The answers come when it is time to understand them."  This is such a great one that maybe explains why I personally got so much out of the Camino because I did all the preparation that I did.  Walking the 500 miles on Phil's Camino reading The Everyday Camino With Annie had me in the zone to start with.  Gracias Annie!
"There is no road, the road is made by walking."  This may be the best explanation of Phil's Camino yet!  There is nothing there until you give it importance.  I like it.
Well, I probably didn't do Cris's lovely writing justice there.  But perhaps we have just begun.  OK, thanks for being with us in our journey.  Sunday kind of love, Felipe.