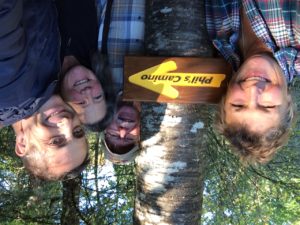 We are here on Phil's Camino clawing our way "across Spain". I know it has been over a year to do this but I guess we don't care at this point. Anyway we have walked 723 laps for 636 kilometers. We are at the town of Hospital da Condesa just west of O'Cebreiro. So that's 152 kilometers to go.
So, one of the important dates coming up is November 6th when Daylight Savings reverts back to Standard Time. So let me publish our walking times for a couple of weeks:
Sunday October 30 – 1600-1700
Monday October 31 – 0900-1000
Tuesday November 1 – 1600-1700
Thursday November 3 – 0900-1000
Sunday November 6 – 1530-1630
Monday November 7 – 0900-1000
Tuesday November 8 – 1530-1630
Thursday November 10 – 0900-1000
Sunday November 13 – 1530-1630
So starting Sunday November 6th the afternoon walks will start a half hour earlier. OK, nice job Felipe.
Come walk with me, Felipe.x