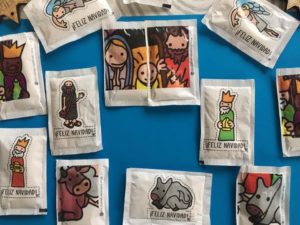 Here it is before anyone is up. Time to think of you and yours in places near and far. Wondering how you are. Wondering how you are faring. Well, Merry Christmas and Happy Holidays to everyone.
There are so many wonderful posts on FaceBook this morning. Thank you for sending those around. My favorite was Ronaldo's (CABC) with the sugar packet nativity scene. Just like some pilgrims would cobble together on the trail.
Well, cuteness, cleverness and profundity escape me this morn as the yule log burns on TV. Just want to wish you a Merry Christmas and thank you for your friendship.
Only the best loves, Felipé.