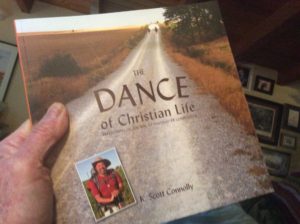 Of course when I was mentioning components to my wellbeing yesterday I left out whole bunches, whole segments, whole quadrants.  It is impossible to untangle and to state truthfully that "X" was the reason something happened or that "Y" was the main component to my success.  I am seeing so much love and support from so many places and people that every time I mention one I forget three.  We are accustomed to do the old cause and effect thing or I am.  But with complex situations is it possible or recommended?
Thank you Sherie for the holy water from Lourdes.  I have my little mustard jar that is half full and I administer it every morning to my body.  This is so powerful in my mind.
People like Sui coming into our lives like unchained energy.  She would make a good Marauder.  The Marauders being the Catholic group from Southern California.  I named them that for their endless energy and enthusiasm.  They all sparkle.
Sui sent a signed copy of The Dance of Christian Life by Scott Connolly.  He is a Catholic priest and the last time I heard he was up in Bellingham, WA.  Anyway lovely gift, lovely man.  I am very familiar with this beautiful book.  Way back when in the spring of 2014 Sister Joyce lent me her signed copy.  Kelly and I read it and we actually got a lot of our thinking out of it on how to walk the Camino.  For sure we copied his pace of 12 1/2 miles per day.  We were able to put together an itinerary, well a rough one, so the film crew would know approximately where we were going to be.  Anyway it is a lovely big format book.  Thank you Sui.  Looking forward to rereading it and savoring memories of the places along the Way.
So yea, Spring time along Phil's Camino here at Raven Ranch.  We have an afternoon walk today at 4.  I think that we may have picked up some new walkers from our shindig at the Eagles Club.  I handed out a bunch of my business cards with the walking schedule on the back.  Nothing like new people, new ideas, new ways, new walks.
Tomorrow back at the hospital in Seattle.  Back to start a new cycle.  This will be number six of the new chemical treatment.  I am so much more confident now than ever before.  I can handle this!  Thanks for all your thoughts, prayers, support.  I know that I was asking for it and receiving it by the truckload.  Gracias amigos.
Time to go, have a big day.  Glad that you are here to share some of it with me.  Big tangled loves, Felipe.