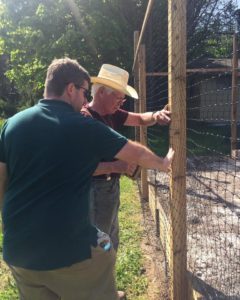 I feel like a real farmer buying seed corn by the pound now.  Well, it is only ONE pound, right.  I can hear Pilgrim Farmer John laughing at me now.  I know I have a long way to go.   But the point is that I am soaking the little guys in water with Saturday and Sunday being my window for planting.  No turning back now.  They are counting on me to get them in the soil in a timely manner.
I have a corn planter offered to me to try.  I should do that.  Have always planted by hand but the whole operation is growing and have to match that with the appropriate technology.  Will has that, the guy that came to tapas Tuesday and gave us the wine plumbing story.
In Forestry College way back when I took botany and other sciences.  But botany was the most fascinating and I still use it a lot in woodworking and now my farming endeavors.  Yea, so what I am getting at is something called geotropism.  This is the ability of plants to grow away from or toward gravity.  Yea.  Then there is phototropism or the  ability to grow toward the light.  Here I found two more from good old Google.  Hydrotropism to grow toward water.  And here is a good one, thigmotropism, or the ability to responded to touch.  That is sounding pretty woo woo.  But it would be how do certain plants find their way to wrap around a trellis for instance.  We have all seen that.
But I digress, back to geotropism.  It is called positive when the roots grow downward toward the center of the earth and called negative in the above the ground part of the plant growing away.  Anyway, I am trying to get my precious pound of seed to a certain point before I plant it and not too far.  If I can just get the root to crack through the now softened shell of the seed that will be perfect.  Then I can drop those little guys into the furrows any old way and geotropism will take over.  See?  But if I wait too long the little plant is growing a big root and I feel like I have to plant it as you would transplanting.  Well at that point that is what I would be doing and that is too labor intensive.  So, this is where this whole geotropism thing got started today.  Thanks for bearing with me.  I don't know maybe we learned something new.
OK, off I go.  See you in twenty four hours, love as always, Pilgrim Farmer Felipe.