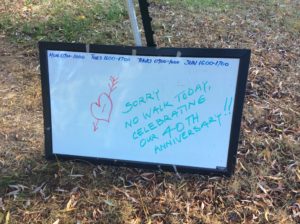 Just a slight hangover this morning after so much celebratory activity yesterday. It was our 40th anniversary and also My Rebecca's birthday tomorrow Tuesday. It will be her 70th, oops, can I say that? Anyway, we went into Seattle with Wiley and Henna and Ubered around to things with the young folks "handling" the old folks.
There is a huge ferris wheel on the waterfront in town that My Rebecca wanted to go on since she thought her skydiving days were over. That was cool and the evening was perfect for sight seeing from beautiful weather. Then we went to our fav restaurant The Phoenicia at Alki Point. We first went there in '03 after we returned from our fabled Med cruise and the discovery of Malta.
Alperfect, the whole deal. Walking in a few minutes and that will for sure shake the last of the hangover out of me. Shades of a few mornings in Spain, just a few.
Miss you loves, Felipe.