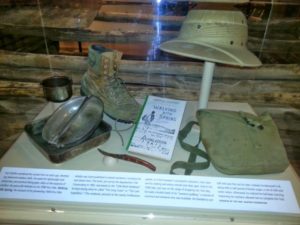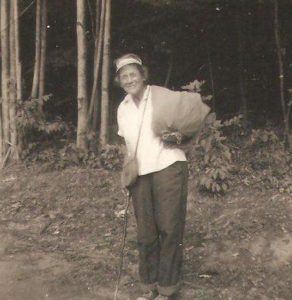 The point is a lot of great things were accomplished with way less than great gear. If we put things off till we get the latest "gee wiz" stuff, that is a mistake. Advertising is saturated with all kinds of over-engineered gear these days. We begin to think that stuff equals success.
Half of success is technique if half is gear. Development of technique may take time and effort but zero money. This is working smarter, the phrase that we have all heard.
I love the pic of Grandma Gatewood next to the Appalachian Trail sign with the burlap sack on her shoulder. No backpack just a sack, pretty funky. In the 1960's I had the opportunity to hang out with Earl Schaffer the man credited with walking the AT for the first time in it's entirety. Then he hiked twice more, once when he was seventy something. All his gear was army surplus when I knew him.
I copied him of course. Boots with no socks, modified Korean War era pack, poncho shelter. He ate dried soups which he would boil up with corn meal in it. I am trying to remember details. A guy like that could survive on pure technique and maybe a knife. "We don't need no stinking gear!"
He is probably a major reason why I am in the Pacific Northwest. He had hiked here in the Cascade Mountains and had fallen in love with it although his home was Pennsylvania. He raved about it. And I see that he died there in the East in 2002.
Anyway, maybe I am just old school but think about it. Things don't have to be perfect for you to start. "Just do it" as they say.
don't hesitate loves, Felipé.