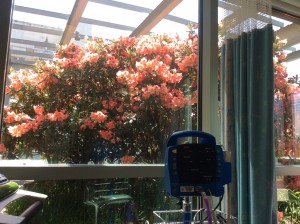 Well, we tried it out yesterday for our chemo treatment day at Swedish Cancer Institute.   We as in Jennifer and myself.  We are both here on Vashon Island and it was just a matter of time before the island grapevine got us together.  And we do what Islanders do when faced with the big city, we car pool.  And actually it is beyond that to a budding buddy system relationship.  We found that we had the same docs and treatment pathway but she was being treated one week and I was on the next week.  Anyway with a little help from folks at the hospital I changed my schedule to hers and now we can team up on it.
Also what is important about this is that I am been doing this for going on four years and have grappled with many things that I can hopefully coach her on.  And visa versa she is seeing the situation with new eyes and coming up with some new angles.   ( just listening to my Soul music and Laura Lee just had a line that might be apropos, "I'm going to slap him in the face with the unexpected!"  Putting cancer in it's place!). Jennifer is just starting  with chemo and this is a totally freaky prospect.  It's all so foreign and difficult.  I am happy that I have some extra energy at this point  to help out in some small or large way, who knows.
And with me at this point the endeavor of keeping the cancer to a dull roar is an endurance race at best.   Being able to keep my health in other areas to give me a strong base to work from is important.  And then to be able to keep one step ahead of the chemo side effects and carry on is important.   Then to keep the whole person, me, intacted with the help of prayer and advisors and strong family.  This blog is part of it also.  I have a mission with the Camino and you the Caminoheads to help keep things burning that gives me a focus and helps keep me alive.  Thanks for reading and being here for me and Jennifer.
Yes, but the world is chock full of different realities.  This was just a little glimpse into this little backwater.  Good luck with your struggle where you are.  Buddy system loves, Felipe.