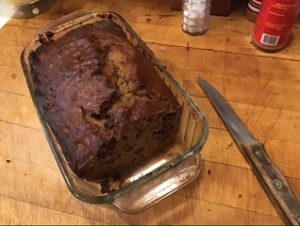 I am getting my day going with two slices of banana bread baked up by our daughter-in-law Henna. She and Wiley rolled through last evening bearing gifts for us. We got them trained. They also brought three wooden bowls perfect for tapas so you will see those at some point. I trust that there will be tapas on a grand scale in our future!
It has been raining off and on which serves to lessen the fire danger that we were exposed to recently. I don't know how far south that goes but it is here for us in the Seattle area anyway. One less thing to worry about these days.
Rebecca and I went into Vashon town last evening to treat ourselves to a sit down meal. Boy, town was really dead and there were only two places that offered indoor dining. We chose the Hardware Store Restaurant. And there was one other couple in there to start and then they left and we were the only ones in the whole place. Pretty grim I'd say.
We came home and watched the adventures of Gil Pender in Midnight in Paris. One of my all time favorite movies. I skip the first third with all the introduction to the future in-laws and get to the good part when the bells toll.
Have a walk in a few minutes. Will have to find my rainy day boots which have been put away. It is time to go and buy some sunflower seed for our feathered friends next time I am in town. The seasons are changing. Not too far away we will be walking the afternoon walk half hour earlier when the time changes.
We put up our old hummingbird feeder outside the kitchen table. We haven't had it up in two years and it is such a joy. My Rebecca and I bet on how long it would take for them to find it. I said two days and she said one and it was one. They are so quick! Anyway, it is my personal belief that every new cancer patient should receive one of these so it can be set up and enjoyed. It is such cheap entertainment and absolutely no batteries needed.
OK, time to go gear up. I think Jen and Jim will be here for the walk. Not many folks are coming these days and it is like the near empty restaurant in town.
no batteries loves, Felipé.