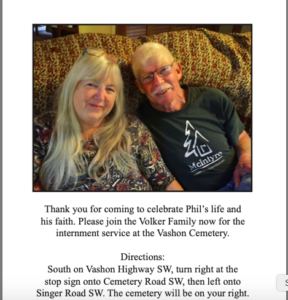 Dear all,
I am sharing here Catherine's words I got in my email today.
As Dana, Rebecca, and I grapple with imaging just how many people will actually attend Phil's funeral and celebration of life, we know that there are many who won't be present. We thought that perhaps sharing the links to the obituary, to the planned livestream of his Mass, as well as an electronic copy of the Mass Program would be welcome.
Could you each post the information via your social media. FB etc. and encourage others do so as well? That would be wonderful.
Sending love from Vashon.
Catherine
Link to Livestream of Phil's funeral Mass, Saturday, October 30th, 11:00 am, PST.
View Our Livestream – St John Vianney – Vashon, WA (stjohnvianneyvashon.com)
TIMETABLE
Pacific Time: 11:00 AM
Mountain Time: 12:00 AM
Central Time: 1:00 PM
Eastern Time: 2:00 PM
Buenos Aires Time: 3:00 PM
UK Time: 7:00 PM
Spain Time: 8:00 PM
Sydney Time: Monday 31stOct 7:00 AM
Auckland Time: Monday 31stOct 9:00 AM