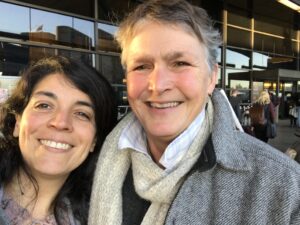 Dear Caminoheads,
Today, one more post of my first visit to Vashon… this one includes the menu at Catherine&Dana… to both refresh Catherine's memory about the dinner they prepared for me (again, a city girl eating buffalo, corn bread with hand-made cornmeal and pears from their own tree… how cool is that?!) And  somehow, is related to the post that I will post next… more to come.
And yes, Phil put me to work. I became the lavender planter "in training" and the cover crop planter "in training" too.
Locally grown undergraduated Loves,
Cris
Man, the weather is gorgeous. It kind of gives outsiders the wrong impression of Seattle. We don't want to let them know that it isn't always rainy and gloomy. Not a cloud in the sky right now.
Last evening we had a fabulous dinner party over at Catherine and Dana's in honor of Cris being here. We had buffalo pot roast and their own corn bread with a pear dessert. They know how to throw a dinner party believe me, all down home and elegant simultaneously.
Yesterday I put Cris to work on two projects along the trail. We planted some new lavender plants and dressed up some existing ones. Then we planted the cover crop where the corn stood not too long ago. I'm putting visitors to work lately on things that I need done and that are directly related to Phil's Camino. Just a few more things to do to get ready for the winter season. I need to mow the grass on the trail yet so it will be short all winter and that makes for drier shoes. Still trying to get some gravel on the inclines in and out of the streambed to make that less slippery. Not that I want the trail to be too civilized just Caminoesque.
Oh, and My Rebecca pointed out that I had been spelling the name of author of Pilgrimage wrong. She's good at that. So, it should be Shriver, no c in there anywhere. Sorry Mark, good book though.
Speaking of good books I am really looking forward to reading Pilgrim Strong, Steve Watkins' new offering. Steve will be up to walk Phil's Camino in November. He's bringing a copy for me all the way from Arkansas, trying to save on postage I guess. Looking forward to getting our heads together, our Caminoheads. Ha!
Maybe we will have a venison dinner for him. My window to take a deer is soon. The best time to take a big deer here is during the rut, that's the word for the mating season. The bucks tend to get quite careless forgetting Felipe lurks behind every bush.
Well, that's the news from Raven Ranch and Phil's Camino. Hope that it is entertaining for you. Miss you, love you, keep going, love, Felipe.
Re-posted by Cris, written by Phil/Felipe/The Boss/The General