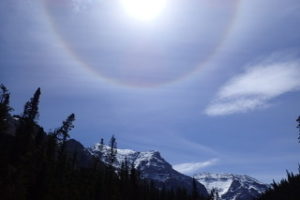 At some point early on in my backyard Camino experience I used the word "alone" to describe in my logbook a lap that I just completed when no one was with me. I remember one occasion when I wrote that word in and then started walking on my next lap. And somehow all the birds and the dogs and whatever in the whole neighborhood was out chattering at me, "not alone". It was sort of a crazy deal. From then on in the logbook I used the phrase "not alone". So when you see that in the logbook you will know. I'm still using that to this day as a reminder to myself.
Karen from Cambridge had a wonderful blog post yesterday. She was not alone in her walk through the woods. And William from Alberta wrote her about his outdoor hikes and I know that he is never alone. It is healthy and encouraging to be engaged in Nature as we pass through. We are not just observers but are participants in the process.
We had some bizarre weather this morning here on the Island. There was a crazy thunderstorm, very ominous right at the time that I was starting a Zoom meeting with twenty five folks from the Cutaneous Lymphoma (skin cancer) Foundation. They had just watched the Phil's Camino film and we were doing a QandA via Zoom. They were from all over the US and Canada. An hour and a half flew by. I could do one of those everyday I think, very energizing.
So, I think now I am going to call Buenos Aires and talk with Cris CSABC. It is time to make a decision about how to handle the Veranda party that we have scheduled for August 2020. I set a deadline of June first for myself so we could inform you of any plans concerning a get together.
time to mosey on loves, Felipé.