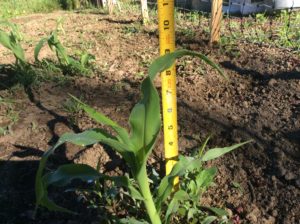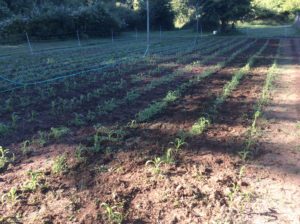 I just walked over to the corn to take a pic of progress and turn off the electric fence.  What a glorious morning, summer has finally found us.  And my life does make more sense outside.   Does that make sense?
Today I am back to Seattle and the hospital for more inside stuff.  Then rushing back to the ranch to start the first time ever Women's Archery Retreat.  I'm so pumped to get this off the ground.  I will keep you informed.
And look at the corn!  It's eight, nine, ten inches.  Of course the weeds are trying their best to keep up that pace but Felipe puts in an hour or two a day to hoe and hack and pull to hold them back.  Every year there is that saying, "knee high by the Fourth of July," hanging over my head.  That means for anyone that hasn't heard that particular pesky phrase, the corn is supposed to be that height by our big American holiday on the 4th.  What's knee high?  18 inches I'm guessing.  So, let's see 8 more inches in 11 days.  Seems doable.  But what is really important is when is it going to be ready to eat?  Mid August we usually are starting to sample it.  And it should be ready in mass for our second Woman's Archery Retreat.  That would be my goal.
Here is some more Thomas Clark with In Praise of Walking.  "Walking is the human way of getting about."  Somewhere I heard that is the speed that God travels at.
OK, time to go.  Enjoy yourself!  Love, Felipe.