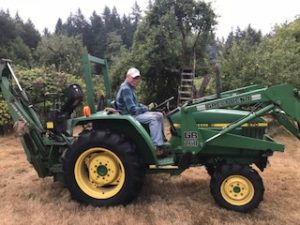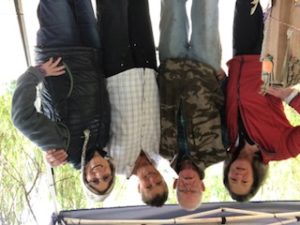 That was kind of a fun blogpost yesterday working on walking a labyrinth. It looks so simple, a labyrinth but it is really ingenious. It is striped down like a good poem is essence.
I'll have to talk to our art historian Catalina and get some reading material about the topic lined up for the long dark winter ahead. Must be stuff on the history, locations, different designs. The artist engineer in me wants to work on a new design. Always room for the new, right?
Annie was here in the spring and we went down to Olympia, WA to St Michael's for a showing of Phil's Camino and to do our usual fantastic QandA. There at the St Michael's campus is an outdoor labyrinth that is very neat and tidy. I had some time in between things so I did the walk. I had a vision where the flat labyrinth changed into a mountain and I was walking around the mountain on the trail and working my way upward to the center at the mountaintop. The tight 180 degree turns of the flat labyrinth changed into switchbacks on the mountainside. That makes total sense, right? Can you see it?
I wonder if there is such a thing as one that is big enough to say a rosary while walking. That would be good to figure out. I like the idea of that where the walker has something to do, to concentrate on, rather than just plain checking his progress continually which can drive one crazy.
Maybe I will find some paper here and work on a different design while I am thethered to my chemo. Lunchtime now though. I think I will investigate the cantina here on this floor. OK, all good once again, alperfect really.
Walking along loves, Felipe.