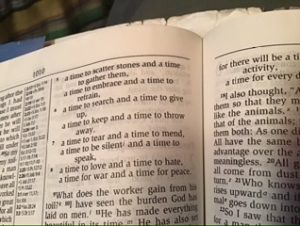 My Rebecca found a few used CD's somewhere and they were on the kitchen table. And we just happen to have a new CD player that came in with Christmas. So there, let's play this Judy Collins.
Judy hasn't been around for a long time in my world but it was refreshing to have her here again. I had one of her albums in the 60's that I wore out. And there was one of my favorite songs of that era, "Turn! Turn! Turn!/ To Everything There Is A Season". Of course Judy didn't come up with that nor did the Byrds but that is from the trusty Hebrew Bible of course. Right now I am going to send a message off to Uncle Google to see the exact source. That is from Ecclesiastes 3:1-8.
And that I learned was first put in song form in modern times by Pete Seeger in 50's.
Anyway, I was feeling sorry for myself for coming down with a chest cold. I'm a busy guy, why me, oh bother? And this is very comforting to me at the moment. Somehow we always think that we are personally in charge of our personal timetable. Things happen, I should know.
So, I am canceling most things for today and tomorrow to mend. Please a prayer for Felipé.
Janurary loves, Felipé.