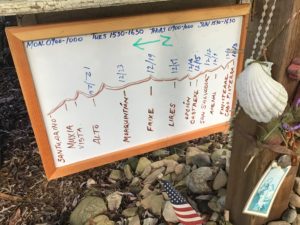 Toward the bitter end of 2019 and we are still walking toward Muxia. We are very close and should be there this morning or on the Tuesday walk, the last of the year. I feel this need to go back to Santiago on foot and enter it on the west side. So, let's do that and that should keep us busy for Janurary.
Jessika is coming for dinner tonight and I am in charge of cooking. I have in mind to make some soup, maybe mushroom, maybe oxtail. Winter time soup making is one of the better things to do in my book. Oh and we might watch a movie this evening. It is a going away party for her as she is on her way to Minnesota for a number of months before the pilgrimage to Lourdes with the Order of Malta in May. High times.
And today is New year's Eve Eve. Time to start to close out the old and to find the new. I am really looking forward to this, this year. To tell you the truth I have never been big on it but this year I feel a difference. We will talk more about it.
Well, walking in 15 minutes, time to find my boots and gloves. On the downhill into Muxia out there. Who will come today?
feeling the excitement loves, Felipé.