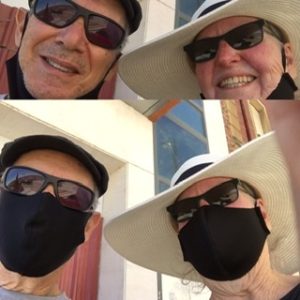 "Unusual, un-virtual Camino experiences this week. Thursday morning was filled with a short walk west of Astorga to the memorial garden in Valdeviejes with none-other than Stephen Shields and Johnniewalker Santiago of WeWalkForYou2020.org. We looked at the progress of planned improvements to the garden area and envisioned the way it might appear when completed. It was a great followup to tapas and drinks the night before celebrating "Buy a Priest a Beer Day" in Astorga. What? You didn't do it? Add it to September 9th on your calendar.
Then at 11 am our friend Tomás picked us up and took us to his wife's childhood home in Santibáñez where the extended family spends the summer months. Tomás was preparing some food from the garden and all was pretty normal until his wife, Marycarmen, arrived and encouraged us to leave the kitchen. So Tomás took us where he spends the middle of most days, the local Albergue.
Yes, a local guy meets other local guys at the albergue and enjoys drinks and tapas. Back in the US I called this the 'Geezer Table' found in many family restaurants. I admit to having occupied a seat at this table more than once. Same guys saying the same stuff to each other for years. Tomás told our story in proper Spanish (I wish I had recorded it, it sounded so good!) and we got to know the guys around the table. Some were cousins and brothers and the like. Then Marycarmen showed up and you could tell she was a regular at the table too! The tapas and drinks were informal and great – croquetas, mussels, patatas fritas, aceitunas – and the conversation was wonderful for us as only one person spoke at a time at a leisurely pace. Nothing heated or contentious.
What had me from the start was that local folks congregated at the albergue in this small town. Today two pilgrims were at another table, but I understand pilgrims often join in the conversation with the townspeople.
So what's the point here?
Just as Felipe walked a pilgrimage on his farm in Vashon Island, and many of us are participating in virtual Caminos online, and Stephen and John are carrying others' prayers, intentions, or things to the Cruz de Ferro, these local people are realizing another level of what our hearts are led to experience along the Camino. They are witnessing pilgrims, even in this unusual year, they are communicating in a supportive and loving way, and yes, they are enjoying the tapas, coffee and cold drinks enjoyed along the way. We were first-timers at the table and were accepted immediately and non-judgmentally. Sounds like the Camino to me.
Wrapping it back around to the White Eagle posts this week, "You need to be well and strong. And for that, there is no other way than to maintain a beautiful, happy, and bright vibration. This has nothing to do with alienation." I sure experienced that with both The WeWalkForYou team and the albergue 'team.'
Please be looking out for your chance to do so too! ¡Buen Camino!
With bright vibrations love,
Ronaldo"
—————————————————-