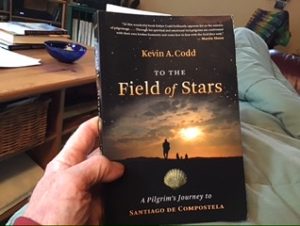 I don't know if I mentioned it but I got a new book going. This is after the Via Francigena one that I fell in love with and that is a hard act to follow. This new one Catherine gave me for Christmas. I have been trying my best to put a dent in my rather large Christmas pile.
This one is entitled To The Field of Stars by Kevin A Codd, published 2008. It is actually Father Codd. It is a very detailed description of his walk along the Camino de Santiago.
I have to admit that I am not going to give a very complete report on this book but I was very moved by the chapter that I read last night. There just was a lot of whining up to that point and just the beginning of insight. But maybe that is good for the new folks to see and hear. But I thought that it was a burden, reading about it that is. But if you were never there you wouldn't know how much there is to over come at times especially early on.
But last eventing I got to the point where he was describing the walk from Nájera to Santo Domingo de la Calzada and sort of all hell broke loose in pilgrim terms. SD is described as the spiritual heart of the Camino and that is what he hits and does so well describing. I can remember hitting this and I don't know if it was exactly in this same geographic location for me but it was definitely a happening.
I think now it is when my fast dwindling personal reserves that I had been relying upon finally ran out and I had to have the Camino catch me. I was laughing and crying at the same time as I walked the trail and worn down to the nubs in every department. Finding a new way to operate was the name of the game. So, needless to say I was very moved as I was reliving this as I read his description.
So,the book turned a corner for me and I go on cheerfully. Thank you Catherine for the gift. Off I go into my Monday.
laughing and crying loves, Felipé.