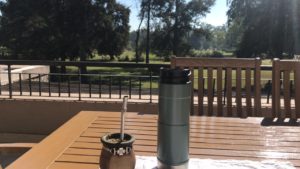 Cris here reporting from a cool sunny morning in the south of South America. Hopefully, the boss (aka Phil) is snoozing as I write today's post and will feel a bit less frazzled and be able to relax and enjoy breakfast with his Rebecca and Steve-O aware that he doesn't need to rush to write the blog today. (We know him and he may come to report anyway, but an attempt to give him a rest doesn't hurt!)
As I read the posts these past days, I couldn't help thinking of Felipe. Phil has had a number of "intense" days, but I have no doubts they were way more intense for Felipe. Let me explain this.
Felipe's world is about walking, with a tidy, humble, very basic and very simple bag-pack. The days as pilgrims are so simple. They are full of amazement as we walk through the sunflowers fields, are so full of laughter as we sit in the tapas tables or the pilgrims menu dinners, or the "bocadillo" stop at midday, that the weirdest thing that happens is perhaps to type a long password for the wifi. These days, Felipe has had to coordinate times, follow ferry/drives schedules, follow protocols are entering the Swedish  Institute, wear a mask, use sanitizer, keep the distance with other humans, get tattoos for the target points, get into the radiation machine… Definitely, too much.
Glad Phil and his rationale mind takes the lead some of these days, but Felipe might feel like when a bunch of elderly Spaniards from Galicia start talking to each other and he couldn't catch a word and there is no remedy but smiling!
Anyway, what I was thinking as I read the blog these days, is how becoming pilgrims has shaped the way we live our lives after that experience. And I say this, even when my daily work revolves around complicated medical/scientific stuff and things I will never be able to see (very much as an act of faith, even when science is seen as the opposite of faith). But that is what I do for a living, but not how I live my life, which is very much rooted in walking instead of finding the fastest way to arrive somewhere by taking highways and speeding, very much about "less" than "a lot", and definitely a lot about tapas tables than ascetic sanitized environments.
Why am I trying to explain this if I know you know what I am talking about, right?! Well, then it is time to heat up more water for my mate, and wish you all a simple Sunday!
Pilgrims Love,
Cris