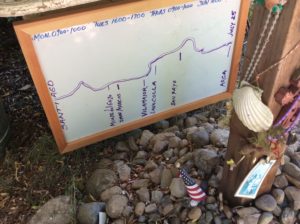 Well, I don't know about blasting but trotting maybe. Hey, another week to prep for the Veranda. I am getting caught up on my work and the mowing around the ranch. Time to start getting organized for the pilgrims coming.
Going to fertilize the corn again today. This is high priority. It is coming on fine out there. Sort of pedal to the metal right now with that project. All we need is butter and salt.
Here is a thought for you guys that are going to camp out here. Nights in the Northwest are cool. It gets down in the 50's over night sometimes. Certainly there are no hot muggy nights that you might be used to. Pack that medium weight sleeping bag.
Also we are organizing a visit to the Most Merciful Savior Monastery which is located close by. They have a dress code for visitors. Here is a copy of what they say:
"We ask that all visitors dress modestly. Men should wear long sleeved shirts and pants. Women should wear long sleeved blouses, long skirts or dresses. Additionally, women are asked to wear scarves when attending services. Children are expected to be kept close, and not allowed to roam freely. Smoking and pets are strictly forbidden."
Wow, "strictly forbidden", we've never had one of those on Caminoheads blog that I can remember. Well, they are pretty mellow there at the Monastery but they have their rules.
Hey gang off to the Monday morning walk. No clouds in the sky here on Vashon. Come by when you can.
no dress code loves, Felipé.