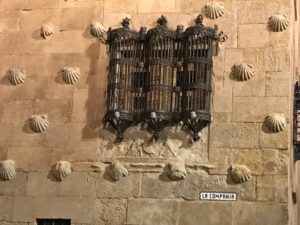 Here I am.  Getting a late start.  Just wondering how many cups of coffee it is going to take today to get off the ground.
We got a nice comment from Pilgrim Farmer John our old Caminohead buddy from Iowa and our Heartland Bureau Chief.  He is deep into growing corn right now and trying to get an accurate count on just how many grandkids he actually has.  Love you man!
Which brings up the fact that sometimes some of our communication falls through the cracks sometimes for whatever reason.  I don't always get an answer to someone's query or request.  I have more traffic than I used to have and it is a challenge to keep up.  So if you think that I didn't answer your email or message fire it off again please.  Stuff happens mostly in the fat fingering department to screw things up.  Thanks for your patience.
Off I go!  Oh, here comes the sun, loves, Felipe.