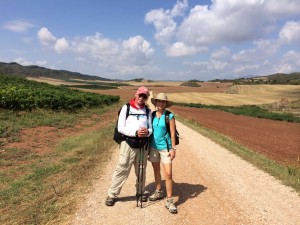 That's just a beautiful photo in it's composition, don't you think? Maryka helped me transfer it to the blog from email. I have trouble with such simple maneuvers. Thank you Alida, thank you Maryka.
I completed my petitions for St James for tomorrow. This is a method that Clara described and involves having four candidates and letting St James pick what he wants to pick. OK, I'm with the program, so: 1. I am asking for a blessing for our world that we may continue to work toward reconciliation and peace. 2. A blessing for the people of Spain for hosting us on our Camino. 3. A blessing for my family, doctors, nurses, angels, friends and advisors that have supported me on my journey. 4. A blessing for my personal Camino wherever it goes from here and for all those who carry a cancer burden. There that looks pretty darn good.
OK, I am going to post this and I will work on getting some more pix ready. Later, love, Phil.