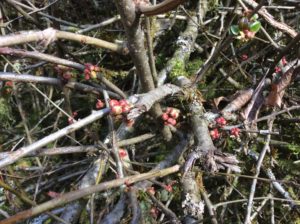 Walked outside first thing after I got up this morning.  It was half light  and not raining or snowing.  Two robins were squabbling over territory.  A raven was  "crooocking".   A hummingbird was already at the feeder.  Wow, all this action was happening.  Looks like a little less winter and a little more spring going on.
I had leader duty at my Bible Guys group this AM.  We had breakfast and then worked on Acts (of the Apostles) chapter four.  It is the story of the early early church.  The authorities are trying to intimidate Peter and John without much luck.  The followers are numbering somewhere around five thousand converts.  People are sharing their money and goods like one big happy family.  This is before Paul's dramatic conversion which is coming up.   Now he is still Saul and busy persecuting these same folks which he will join soon.
I think we are having a special walk today, this afternoon.   John is supposed to come up from Olympia area to spend a little time with us.  Haven't seen him since the Port Townsend Film Festival and Slumber Party back in September.   So we will have to catch up on all that has happened in the meantime.
Tomorrow afternoon we will be walking at 3:30.  Come out if you can as most of my regulars are out of town on various junkets.  It would be nice to have some free faces.  And tapas afterward as usual.
OK, have to put a wrap on it for now.  Time to put doors on the cabinets at the shop, never a dull moment.  Love you all, Felipe.