Phil/Felipe/The Boss/The General wrote the below.
And what a joy to be able to log in today, and hopefully to be able to make this post "alive", and hopefully to "keep walking" as Phil wanted us to do here, with our heads in the Camino.
We have been facing some challenges with the blog, and we have been trying to be as careful as possible so as not to lose all that Phil created here, but the website needs serious updates as it is leaving a huge amount of holes for malware and right now all we have is a temp fix (which means, something like my computer now wears a mask when comes to visit the blog, but the blog is still infected). Yet, today is an important day for me… 3 months ago I was on my own in Buenos Aires International airport waiting for the flight that would take me here. Today, other things happened too, but more tomorrow, as the important thing today is to read what Phil was reflecting on our behalf 3 years ago.
I miss him.
I miss you all too.
Joy and missing others coexisting loves,
Cris
Post below was written by Phil and re-posted by Cris.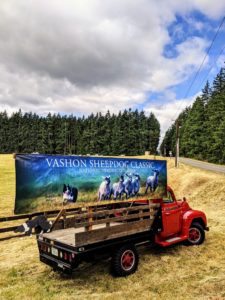 The sun is out and I have to get out in the corn. Maybe fertilize today. But first to be with you. Everything pretty much going along well where you are?
We had Bible Guys class this morning. I was in Orlando last weekend so I missed it but not a problem as there is nothing really to miss in a sense. You jump back in the flow of it and off you go. We had seven guys show up this morning. I think that we have twelve that come total but they are never there all at once. It always reminds me of the twelve apostles in that we are in some ways so alike and in other ways all so different. Again, a motley crew for Jesus.
We are supposed to be studying the Bible chapter by chapter but occasionally we fall into a conversational mode that leads us astray. We try and try to hold to the line but it was one of those days where every question spawns another. And that is what I am calling the flip side. We need the structure and discipline of the study but we also need to do whatever else comes out of that.
But ultimately it is all fun and I always miss it when I can't make it for some reason. I remember when I was younger and I was talking to an older friend that said that he had been going to a class for nine years and I was amazed at that. But now I have been going for at least fifteen years to this one, time flies for me.
And here at Phil's Camino we do a lot of flip side work as we walk and tapa along. We tend to talk out a lot of questions that come up in our lives. That is what I meant one time, "that we figure things out". Somehow we manage to whittle out little building blocks that we can fit into our story to make sense of this or this. Nothing earthshaking but nonetheless vital in keeping things going in our journey. We seem to keep moving inspite of the standard obstacles.
This whole thing I realize is slightly on the vague side today but hmmm what to do? Maybe tomorrow things will be more in focus, that happens. The important thing is to get something done today even is it isn't complete.
We have the Sheepdog Trials happening on Vashon this weekend and people come from hither and yon to watch. It is a crazy time when our population doubles. I'm going to hunker down at the ranch and wait for it to blow over.
Hither and yon loves, Felipé.