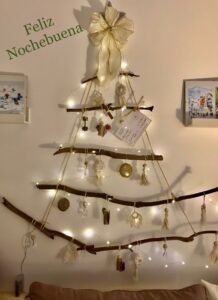 My 2D Christmas tree
Dear Caminoheads,
I hope everyone has had a nice Christmas Eve and Christmas celebration, and most importantly, a healthy one. Down here, things are getting pretty serious with the pandemic even in the middle of summertime with temperatures over 80F in the evening… I don't know about you, but here, the Christmas's spirit was totally absent, everyone has been trying to decide what to do, meet others or stay at home, get tested or assume a positive, if we stay at home then what do we eat, others decided to gather and let it be what needs to be. But whatever the circumstances, the Christmas's spirit has left its place to uncertainty and fear.
I did not make plans, in fact, this year I had not even done groceries shopping. I have been off work since Monday 20th Dec, first with a sick leave that continued with the Christmas break, not counting that it was my birthday in between the two on the 23rd. Today was my first day back at work and I am now more than ready to sleep. I am on the mend, but today after lunch, I wondered how I would get to the end of the day without a nap…!!!!!! We get used to good life pretty quick, don't we?????!!!!
Anyway, I just wanted to say hello and that I am slowly getting back to normal -which is a joke these days-. I will report more tomorrow.
Much love,
Cris