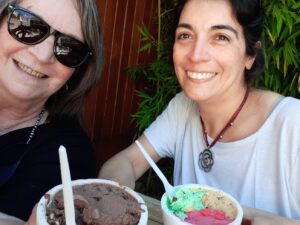 Dear Caminoheads,
I am so sorry for the fact that I couldn't keep running this blog daily; I know that Phil wanted me to find "my own way", but it was indeed my wish to keep it daily. However, life happens to be busy which is fine, life happens to be busy for most of us if not all no matter what, but when on top of busy, you don't feel well, everything is uphill. Not the Pyrenees, but sort of like O Cebreiro… remember that?
I shared with you about my 1200 km trip to visit my aunt. The driving was quite something, but the emotional load was something that is difficult to measure in km or hours driving, but nonetheless, extremely high. When I returned, I got the flu (or was it the emotional load?) that really took me down… I had to take days off at work (and oddity on my end). And when I felt I was almost recovered, I had my appointment for the booster shot, and I suffered one of the very odd side effects, that needed some attention and rest.
Side Note: YET, to be fully clear, even an odd side effect is a very cheap price to pay considering the distress, sadness, loss, isolation, and I could go on and on and on, that this pandemic has brought. PLEASE GET THE VACCINE. 
And I also had the main launch meeting for my projects in Asia/Pac countries, which meant staying late 2 nights, after having worked during the day. And these weeks have been pretty full of end of the year assessments of work colleagues, budgets preparation, end of the year on-line meeting… oh, we also had a big BIG change at work, as we became part of a larger group… and there was another huge HUGE topic going on, as the cherry of the pie.
This is all to say that when I was lucky enough to end my day, my smartwatch was screaming to me to be wise as my body battery could only cope with dressing my pajamas and slipping in the bed (and brushing my teeth, but only because I have an electric brush and didn't need to move my arm!!!)
This morning started with a class I had participate in, a commitment done months ago, and while I thought to sleep in when the alarm went off, I am super glad I didn't because it was truly worth it. And to continue the day, I got a call from a dear friend, she used to be my secretary when I was still practicing, sharing with me about her appointment to get the vaccine and some difficulties going on, so I exchange the nap for the round trip to get her from her home, the vaccine, and ice-cream, and get her back to her home. This was truly worth it too: she is safer now with the booster shot, I got to spend time and a great chat with her, and I cannot forget the ice-cream!!!
Right now, after writing this post, I am pretty much ready for bed… but believe me, writing this post has also been truly worth it!
Busy times – Not busy loves,
Cris