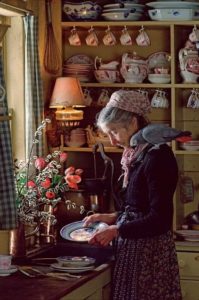 I don't know why exactly that I entitled this post "X" but it seemed to make sense in that moment. Anyway, here we are. I had a good night's sleep and feel refreshed after the hardships of yesterday. That was a hard day on the old Cancer Camino. I got beat up but here I am with a new morning!
Yesterday I received a FaceBook post that had this pic of Tasha Tudor with a poem by Elena Mikhalkova. The pic was beautiful and the poem was beautiful and someone put them together for us. The poem reminded me so much of things that I have learned on my Cancer Camino and that I talk about with others patients. So, I thought that I would take the artistic license of slipping my interpretation in the poem. I do hope that isn't totally rude and taken as unappreciative of this marvelous poem but I can't resist.
"My grandmother once gave me a tip:
(My Cancer gave us this Way.)
In difficult times, you move forward in small steps.
(Don't get overwhelmed, keep moving forward even if that is holding your ground.)
Do what you have to do, but little by little.
(Do what the doctor orders, be patient with it all especially with yourself.)
Don't think about the future, or what may happen tomorrow.
(Live for three minutes or three days.)
Wash the dishes.
(Fix tapas, pour wine, cook a simple meal.)
Remove the dust.
(Plant the sweet corn.)
Write a letter.
(Write the blog every day, report about one day at a time.)
Make a soup.
(Make a soup, a hearty soup, keep your weight up.)
You see?
(Your path is not lit very far ahead but do you see?)
You are advancing step by step.
(You are moving forward soup by soup, mile by mile, week by week.)
Take a step and stop.
(Cut it all in bite sized pieces.)
Rest a little.
(Rest a little bit but movement is good too.)
Praise yourself.
(Atta boy!)
Take another step.
(Do the next thing.)
Then another.
(Repeat.)
You won't notice, but your steps will grow more and more.
(You will get stronger, strong enough to walk over the Pyrenees maybe.)
And the time will come when you can think about the future without crying."
(And your long string of small victories will be your life!)
Elena Mikhalkova
Of course Elena's poem could be useful in these times of Virus. That's good. Write your own lines. Get an equivalent for each one so it is tailored to you.
parrot on my shoulder loves, Felipé.