Here is a nice article about pilgrimage in England that was given us by Catalina our art historian. It is specifically about visiting cathedrals, making pilgrimage to historic cathedrals. Here is one paragraph:
"So what is driving this uptake in pilgrimages? "The top reason for pilgrimage is emotional well-being," Hayward said. He views this as part of a broader sociological trend. "The rise of pilgrimage is part of the shift from the age of knowledge, which has dominated the past three centuries, to the age of experience.""
Ah, it looks like we are cutting edge here, bounding and leaping down the trail. We the advanced guard. We the trend setters. What is that song we used to sign, "don't know much about algebra", don't know what a slide rule is for".
Here is the link to the rest of this article:
It is my observation that the experiential quest is closely allied with the mystical side of religion. It finds it's juice in the doing, the immersion and the internalization. Knowing is one thing but living with it is another.
So tapas, not to change the subject. Cruised Trader Joe's yesterday on the way back from the Institute. I found two other items that make for good things to bring to the table: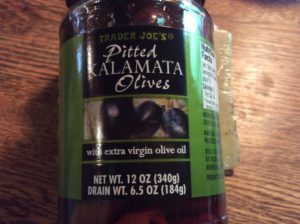 see you later alligator loves, Felipé.