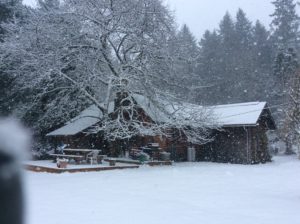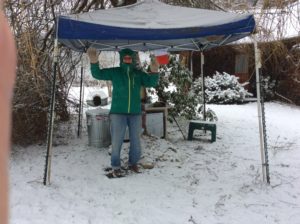 Snowy conditions across Washington State. It has been snowing on and off all night and we got maybe 3 inches here at our 300 foot elevation and more to come this AM. Schools all closed, kids happy. But what about Phil's Camino? According to Steve NWBC, "We never close!" That's right, Phil himself will be marching around the situation here momentarily.
I'll take a few pix of things for you of the winter wonderland. And I would so love to come across cougar tracks or some such rarity out there. Well, you will be the first to know.
And with yesterday's blog about remembering where we were fifty years ago at least one good comment came in on that. Diego from Lake Arrowhead remembers things here on the West Coast at that time. Well, check it out and maybe there is more by now.
Yup, guess winter is still holding court here. I've been longingly looking through seed catalogs myself thinking we were going to slide past this kind of activity, but no guess not.
OK, well, here I go. I have fifteen minutes to gear up. We never close, right Felipé? If I'm not back in an hour call the Mounties. Love, Felipé.