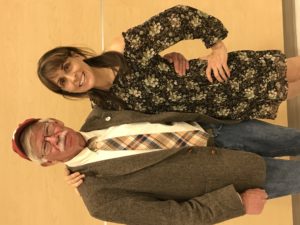 What the heck would Hildegard think? This concerns the hospital, Swedish Cancer Institute. This is my 108th treatment today and I walk into the waiting room and there are no jigsaw puzzles. 107 times I have walked in and have done jigsaw puzzles and now no puzzles.
Seriously, in some sense the jigsaw puzzle table is the best thing that happens here. Patients get together and talk to each other and work on the puzzle together. Other than this, interaction is close to nonexistent. That is it's value getting people together. There are enough mechanisms and procedures that keep people isolated from one another and we don't need another.
Then the magazines, the staple of the waiting room are gone. No more Time, National Geographic or People. What would Hildegard think?
And the plants gone. So, OK, the puzzles and the magazines get passed around to too many people maybe and they catch stuff from one another. But the plants.
It all some new program to protect us from one another. OK, well buy new puzzles everyday then and incinerate them afterward. There must be some way.
We've heard of deja vu all over again. This is like 1984 all over again. Sorry to be ranting and raving but can't help it. Maybe a little turkey and dressing will help my attitude.
OK, enough of this. Have to get back in the gratitude mode. I want all of you to have a Happy Thanksgiving and safe travels to and from. Love, Felipe.