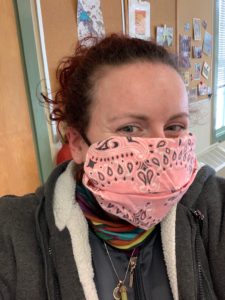 That's Catherine, an essential worker here in Seattle sporting her Veranda bandana mask. We are doing our part. (photo H Klauser)
I've heard of the Trade Winds and trading baseball cards but now we are in the zone of trading soup. Yea, soup as in soup, no more and no less. This last weekend Catherine and Dana made borscht with their new garden beets. Nice and they thought to share it with us, a good thought it was. And it showed up at our door along with some wine and other goodies, so sweet. And we here in this house had just made split pea soup with ham hock and guess what we had plenty for them. They so liked it.
That's a little snapshot of our neighborhood in these times. It was a simple gesture concerning folks close at hand. But you all know that this blog is a neighborhood of a little different sort but equally important. We can't really trade soup but we can do other things just as nourishing. Cris put her finger on it when she said that there is "togethernessing" available here. What did Jesus say," Man does not live by bread alone." Not by soup alone either but that's certainly a good start! So when I think neighborhood I am including my FaceBook friends and fellow Caminoheads.
I have a friend on FB, Sylvie in Canada, Ottawa maybe. She walked the Camino at some point but I don't remember the details on that. She was writing about her concern for her family, her community and the world and that grabbed my attention. I have been praying the rosary on my walks around the backyard Camino here since I don't have visitors to gab with. It seemed like the thing for me to do. So, in an hour I walk the usual 3 laps around and pray three times around the rosary. The first for our family, the second for our neighborhood and the third for the world. Notice neither of us had country in there. No Canada and no US. We both went from neighborhood/community to World. Do you think that has anything to do with the walking the Camino or of fighting this Virus or both?
Off to lunch and phone talk with Henriette.
our neighborhood has grown loves, Felipé.