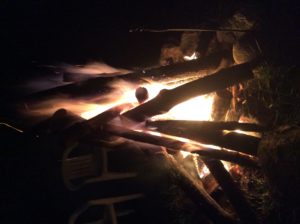 Buenos Aires Cris came up with a new verb inspired by the talk here over the last few days. Yes, "togethernessing". I'm looking at it like I would at a new exotic fruit at the supermarket. Hmm, interesting, has possibilities. Is it more for tapas or more for dessert?
I forget if I told you that we watched "The Way" a couple of nights ago. It was good to see it, like seeing an old friend. I had a tear now and then. I noticed something new now and then. Overall it stands up pretty darn well. It is a great thing to recommend to a newbie as it is easily available. Thank you Martin.
I had a talk with the folks that run the Vashon Book Shop and they want to carry our DVD. They have a real solid commitment to having books by Island authors available so I think that Phil's Camino will fit right in on one of those shelves. Don't know why I haven't thought of this earlier.
There is some blue sky out there right now. We are drying out a little bit after all the wet of the last few days. That is good. Walk this afternoon at 3:30. That time will shift to 4:00 when daylight savings starts but that isn't till April. Easter is early this year though.
OK, time for me to run. Have a good one. Togethernessing is showing up in my spell check, my iPad likes it. Alperfect, Love, Felipe.